Masterclass on Commercial Law a joint initiative of CLDP-USA, CLEI Pakistan, USAID, ACIF & IBA, Karachi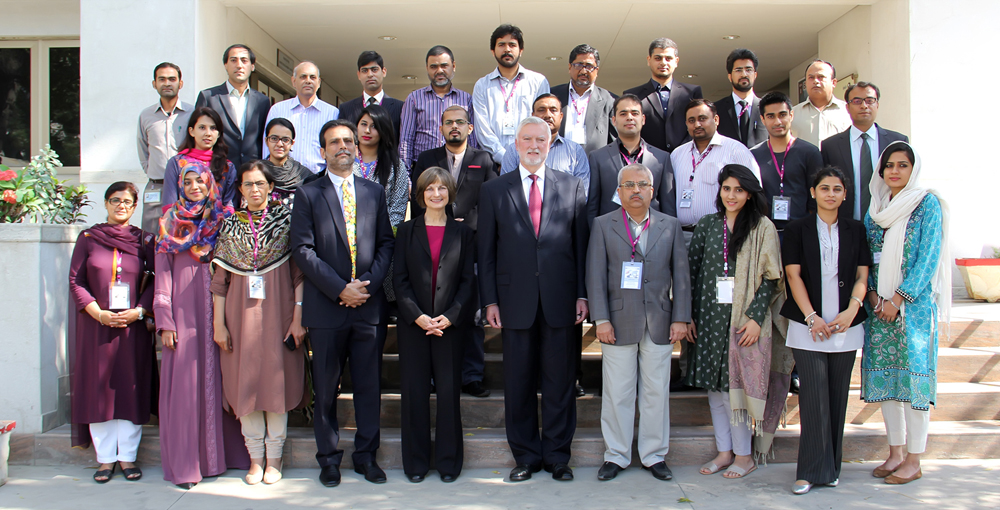 The Center for Executive Education, IBA Karachi hosted a first ever Masterclass on Commercial Law in the continuing legal education format from 29 to 30 January 2016. The masterclass was sponsored by Commercial Law Development Program, USA, Continuing Legal Education Institute of Pakistan, USAID and Anti Counterfeit & Infringement Forum Pakistan. The faculty included Judge Hildy Bowbeer, District of Minnesota USA; Amar Naseer, Director, Unilever Pakistan; John Dickerson, Senior Commercial Counsel, Department of Commerce USA, and Mahreen Nazar, Assistant Professor of Law, IBA.

Dr. Ishrat Husain, Dean & Director IBA, Karachi and Dr. Izhar Hussain, Director CEE IBA, welcomed the initiative as a positive development in the area of continuing legal education in Pakistan. Richard Rasmussen, Economic Officer Department of State USA, also spoke on the need for Continuing Legal Education in Pakistan. The masterclass was attended by a group of lawyers, in-house counsel and students. Participants were from Atlas Honda Limited, Citibank N.A. Pakistan, Cyber Internet Services Pvt. Ltd., Dollar Industries Pvt. Ltd., National Foods Ltd., Pak Arab Refinery Limited, RB (Pakistan) Ltd., Samba Bank Limited, State Bank of Pakistan, Telenor Pakistan, Tourism Promotion Services Pakistan, Unilever Pakistan. The participants expressed the view that the initiative will help raise the standards of education in commercial law and the legal profession, and continuing legal education activities must be held on a regular basis.