CEE Successfully Conducts Directors Training Program on Campus with Complete SOPs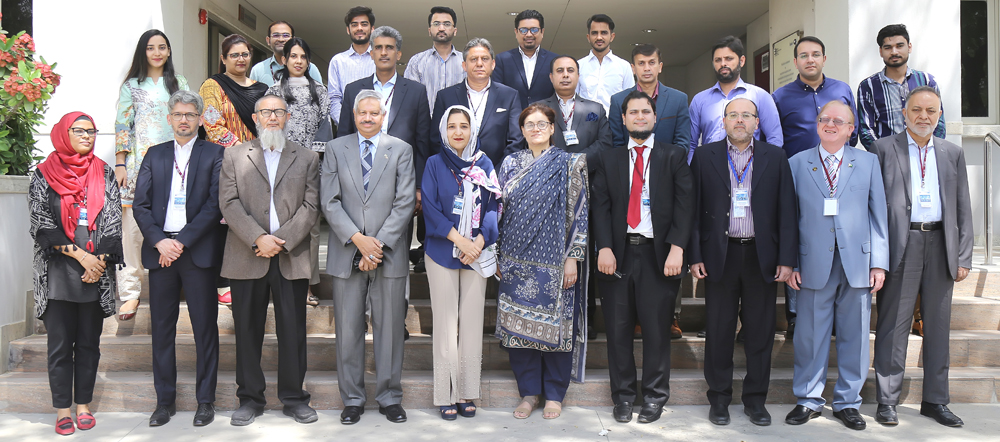 The Center for Executive Education (CEE), IBA, hosted the Directors' Training Program at the IBA City Campus, Karachi. DTP consists of 2 modules and is approved by the Securities & Exchange Commission of Pakistan (SECP) and Supplemented by Institute of Directors, UK. The Module 1 of this exclusive training was hosted on March 16 & 17, 2020, however, module 2 was kept on hold due to the COVID'19 lockdown and was recently carried out from September 23 to 25, 2020. While hosting the program, the CEE management was vigilant on following the IBA Covid'19 SOPs, making each participant's' safety their top-most priority.
This program provides guidance on targeted areas to ensure that Directors of listed companies with specific requirements remain up to date. This program is extensively prepared by subject matter experts and is designed to keep Directors of listed companies abreast of leading trends and practices that promote good governance, protect competitive advantages, and prepare for regulatory change.
The following faculty conducted the program:
Dr. Huma Baqai, Associate Dean (Faculty of Business Administration) & Associate Professor of Social Sciences and Liberal Arts
Ms. Mahreen Nazar, Assistant Professor of Law, IBA, Karachi
Mr. Abdul Rehman Suriya, Visiting Faculty, IBA, Karachi
Mr. Amar Naseer, Corporate Lawyer, FCA, LLM
Ms. Nausheen Ahmad, General Counsel, ICI Pakistan Ltd.
Faheem-Ul-Hassan, Partner, A.F. Ferguson & Co
Mr. Rahat Aziz, Independent Consultant
Testimonials:
Muhammad Daud (Board Director, Pakistan Mineral Development Corporation Private Limited, PMDC)
"Dr. Huma Baqai is one of the best trainers in the directors training program she has shared valuable knowledgeable of the topic."
Muhammad Kamran Azhar (COO, Haris Enterprises Limited)
"Taking this opportunity, I must thank you all, particularly Dr. Suriya Sb, as his knowledge and way of teaching was par excellence. Thank you all, as each one of you carried a lot of experience and knowledge with an equal amount of willingness to share his/her knowledge with others. Grateful, indeed."