Directors' Training Program (DTP) - (Approved by SECP) A Customized program for HBL - May 2016

From May 12 to 14, 2016, the Center for Executive Education hosted Directors' Training Program for HBL at HBL Learning & Development Center in Karachi. The program was attended by 30 participants from HBL including Chairman Mr. Sultan Ali Allana, President Mr. Nauman K. Dar, Board Members, Management Committee Members and other Senior Management Staff.
The dawn of 21st century coincided with the Enron scandal, and produced far reaching ripples in the commercial arena. Subsequent sufacing of Worldcom and Omnimedia scandals further shook the belief in compliance robustness of capitalistic institutions of the developed economies. New efforts evolved globally to strengthen the "Governance Processes" in the post Enron commercial world.
Boardroom best practice is constantly evolving. This program is extensively prepared by subject matter experts and is designed to keep Directors of listed companies abreast of leading trends and practices that promote good governance, protect competitive advantages and prepare for regulatory change.
Pakistan was among the nations to introduce formal corporate governance compliances at an early stage. The listed companies and public sector companies are subject to Corporate Governance oversight; and not-for-profit institutions will soon follow.

The following were the faculty of the program:
- Dr. Ishrat Husain, Professor Emeritus and Chairman Center for Excellence in Islamic Finance, IBA, Karachi
- David Buckle, Institute of Directors, UK
- Dan Newcomb, Mark Lanpher & Reena Agrawal Sahni, Shearman & Sterling LLP (joined through Video Conference)
- Dr. Huma Baqai, Associate Professor, Director Public Affairs & Communication, IBA, Karachi
- Abdul Rahim Suriya, Visiting Faculty, IBA, Karachi
- Aftab Rizvi, IT Consultant, Australia
- Farrukh Rehman, Partner, A. F. Ferguson & Co.
- Mehmood Mandviwalla, Mandviwalla & Zafar
- Syed Fahim Hasan, Partner at A. F. Ferguson & Co.

The program was a mix of Guest Speakers, Simulations, Case Studies, Group Discussions, Video Conference, Board Room Exercise and Assessments. Directors of listed companies and public sector companies are required to secure formal certification in the form of Directors' Training Program (DTP). The Director Training Program offered by Center for Executive Education (CEE), IBA, Karachi, is an approved program by the Securities & Exchange Commission of Pakistan (SECP).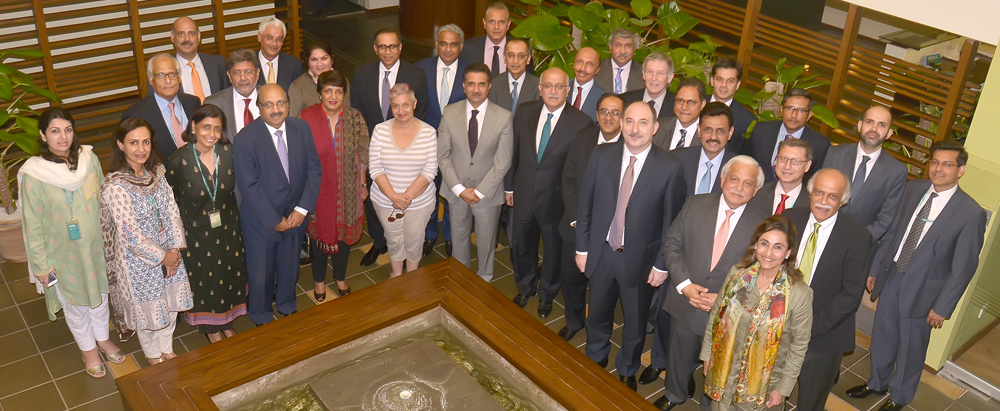 For program details:
cee.iba.edu.pk