CEE hosted two module Directors' Training Program attended by participants from Pakistan, Kuwait and Libya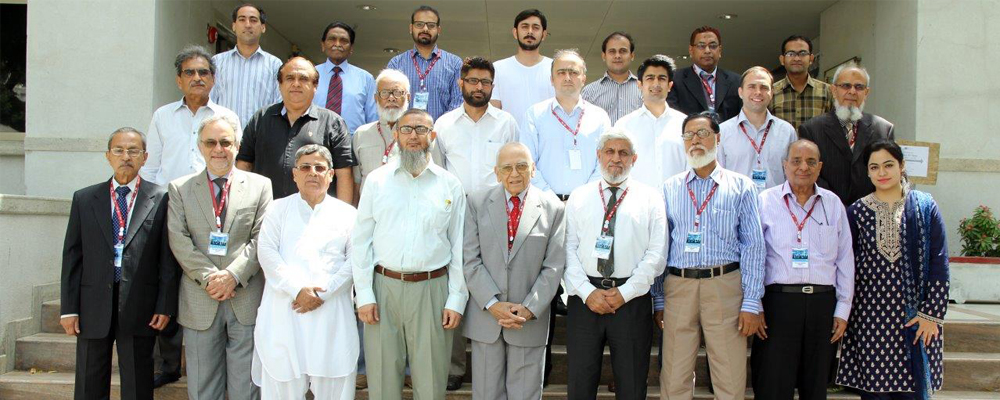 Directors of listed companies and public sector companies are required to secure formal certification in the form of Directors' Training Program (DTP). The DTP offered by Center for Executive Education (CEE), IBA, Karachi, is an approved program by the Securities & Exchange Commission of Pakistan (SECP).
The Center for Executive Education hosted two module Directors' Training Program on May 16 & 17, 2016 & May 20 & 21, 2016. The program was attended by participants from Pakistan, Kuwait and Libya.
The dawn of 21st century coincided with the Enron scandal, and produced far reaching ripples in the commercial arena. Subsequent sufacing of Worldcom and Omnimedia scandals further shook the belief in compliance robustness of capitalistic institutions of the developed economies. New efforts evolved globally to strengthen the "Governance Processes" in the post Enron commercial world.

Corporate governance broadly refers to the mechanisms, processes and relations by which corporations are controlled and directed. Governance structures and principles identify the distribution of rights and responsibilities among different participants in the corporation (such as the board of directors, managers, shareholders, creditors, auditors, regulators, and other stakeholders) and includes the rules and procedures for making decisions in corporate affairs. Corporate governance includes the processes through which corporations' objectives are set and pursued in the context of the social, regulatory and market environment. Governance mechanisms include monitoring the actions, policies, practices, and decisions of corporations, their agents, and affected stakeholders. Corporate governance practices are affected by attempts to align the interests of stakeholders.
Pakistan was among the nations to introduce formal corporate governance compliances at an early stage. The listed companies and public sector companies are subject to Corporate Governance oversight; and not-for-profit institutions will soon follow.

The following were the faculty of the program:
- Abdul Rahim Suriya, Visiting Faculty, IBA, Karachi
- Amar Naseer, Visiting Faculty IBA, Karachi & the Director & Company Secretary, Unilever Pakistan Limited.
- Dr. Huma Baqai, Associate Professor, Director Public Affairs & Communication, IBA, Karachi
- Mahreen Nazar, Assistant Professor, Accounting & Law Department, IBA, Karachi
- Nausheen Ahmad, Company Secretary and General Counsel of Habib Bank Ltd
- Syed Fahim Hasan, Partner at A. F. Ferguson & Co.

The participants were from the following organizations:
- Aisha Steel Mills Limited (Arif Habib Group)
- AKD Investment Management Limited
- Din Textiles Private Limited
- Dost Steels Limited
- First Habib Modaraba
- Indus Dyeing & Manufacturing Co. Ltd
- Invest and Finance Securities Limited
- Khyber Textile Mills Limited
- Leather- UP Limited
- Meezan Bank Limited
- Mega Inc.
- National Insurance Co. Ltd.
- Pakistan Hotel Developer
- Pakistan Reinsurance Company Limited
- Tata Textile Mills Limited
- The Universal Insurance Company Limited
- TRG Pakistan

The program was a mix of Guest Speakers, Simulations, Case Studies, Group Discussions, Video Conference, Board Room Exercise and Assessments.

For program details:
cee.iba.edu.pk