Session with Women Chamber of Commerce & Industry, Lahore hosted by IBA-CEE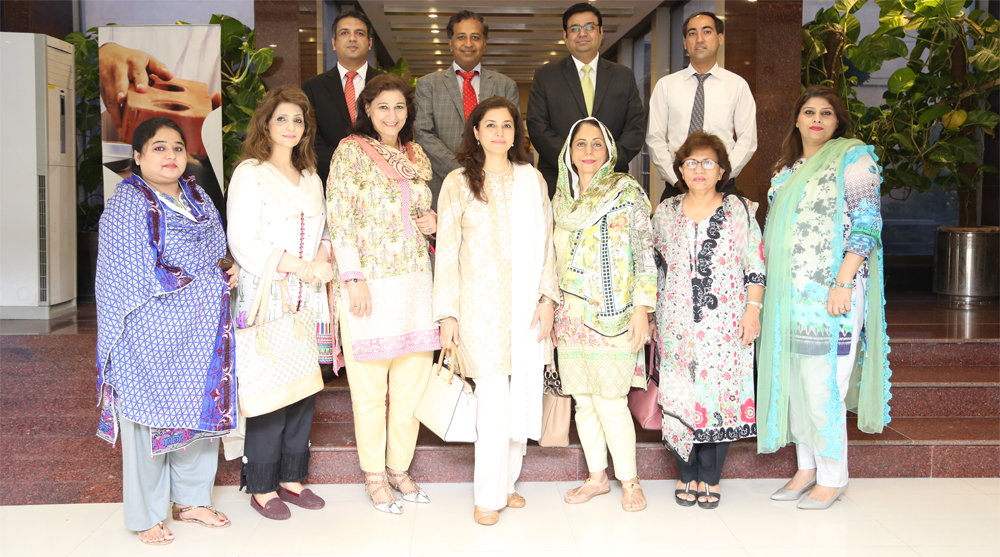 The Center for Executive Education, IBA, Karachi, hosted a two-hour long session for Women Chamber of Commerce and Industry in collaboration with Bank Alfalah Limited at BAFL Learning Center, Lahore.
The Women Chamber of Commerce and Industry was developed for women entrepreneurs by encouraging entrepreneurship as a means of economic empowerment. For potential women entrepreneurs, the chamber aims to provide a one window facility. For established women entrepreneurs, the chamber provides a forum for debate and discussion, opportunity to interact with their local and international counterparts as well as facilities for research and development.
The session was attended by Mr. Ahmed Nauman Anees, Head, Learning, and Development Division at Bank Alfalah Limited; Mr. Kamran Bilgrami, Manager CEE, IBA and the following Executive Committee Members from Women Chamber of Commerce and Industry:
1. Ms. Shazia Suleman – President
2. Dr. Shehla Javed Akram – Executive Member
3. Ms. Falahat Imran – Executive Member
4. Ms. Rukhsana Khan – Executive Member
5. Ms. Shazia Bukhari – Executive Member
6. Ms. Qaisra Sheikh – Executive Member
7. Ms. Ghazala Saifi – Executive Member
The session was moderated by Prof. Parimal Merchant, Director Family Managed Business Programs at S P Jain School of Global Management, Mumbai. Comments by Prof. Parimal Merchant:
"Role of women in business is well accepted but the role of Family Women in the family business has been always dubious.
A woman could be a home maker, or have a small business of her own or be a professional like interior designer, dentist etc. or be fully involved in family business.
In either case, as we discuss in Global Family Managed Business two aspects that deserve serious deliberations.
One, Psychological aspect, dealing with aspirations of the woman – should she have her own aspirations or should she put a nice table cloth on her aspirations and live only for others? Should she be Superwoman that will never get drained and keep doing multiple tasks or accept that she also is human and can get tired.
The other is Sociological aspect dealing with the expectations and support system in the society. A woman may compete with man shoulder to shoulder as shown by many woman business leaders, yet would there be any change in the expectations from her by the society?
These are the issues with no easy answers, but can't be swept under the carpet either.
It was an honor to deliberate on these issues with a team of Women Chamber of Commerce and Industry at Lahore."
Profile of the Moderator
Prof. Parimal Merchant is the Director with S P Jain School of Global Management in-charge of the Global FMB – a distinctive 12-month management program for sons and daughters of business families. He has over 25 years of association with Management education from which 20 years specializing in the area of creating specialized programs adapting management education to the context of Family Managed Business. He is an advisor to the Asian Institute of Family Managed Business, which is a non-profit initiative to get sons and daughters of family businesses excited to join family business at a young age. He has been involved in profit improvement consultancy projects for nearly 30 years and has been involved with nearly 100 companies - both SME as well as corporates.
For details: http://cee.iba.edu.pk/