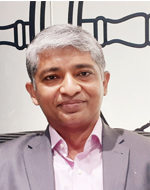 Muhammad Asadullah
Muhammad Asadullah has 18 years of experience working for four of Pakistan's top 100 exporting firms. Currently he is running his own Export Management Company. Over the course of his diversified career, Asadullah has devised export entry strategies for country's largest business groups as well as SMEs. His last role was Group Head - Export with a blue-chip company (producing processed food products and nutritional supplements) where he was responsible for handling an annual export portfolio of US$44 million and managing global sales to 25 countries in 6 continents.
After stepping into entrepreneurship by establishing his own Consultancy firm, he is pursuing his passion of enhancing exports from Pakistan by helping domestic firms to expand their footprints in global markets.
It has been over a decade he has been regularly facilitating training programs and conducting public workshops. His way of facilitating workshops is interactive participation, case studies, sharing practical examples and engaging audience with real-life scenarios. He has an MBA – Marketing degree from IBA and M.A. Economics & International Trade from Karachi University. He is a multilingual. He is sports enthusiast and participates in marathons. Complete profile and further details of work can be viewed at his LinkedIn Profile: https://www.linkedin.com/in/muhammad-asadullah79/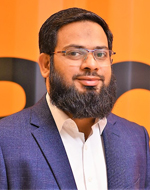 Abdul Rahim Batavia
Abdul Rahim Batavia brings with him 15 years of experience managing high profile accounts for top-tier firms. He has diverse experience in logistics, shipping, aviation, and start-up. He has worked with several major companies including DAMCO, DHL Global Forwarding, Maersk Line, Gerry's dnata, Careem and Hapag Lloyd. Rahim is Certified Solution Selling Professional from SPI Sales. Having completed his MS degree in Management Sciences from SZABIST and MBA from Karachi University.
Rahim is currently working with Hapag Lloyd and serving as Head of Sales, Pakistan. In his last role at Careem, Rahim was in charge to disrupt B2B transport model through digital transport solution. Prior to this Rahim was associated with Gerry's dnata (Emirates Group) where as part of commercial team he worked extensively to diversify company's revenue streams
Rahim enjoys conducting session on international business and global logistics and has experience of facilitating workshops and training where he tries to bridge gap between theory and practicality. Complete profile and further details of work can be viewed at his LinkedIn Profile: https://www.linkedin.com/in/abdul-rahim-batavia/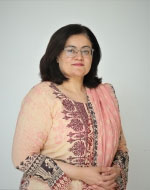 Mahreen Nazar
Ms. Mahreen Nazar is currently an Assistant Professor of Law at the Institute of Business Administration, Karachi.
She has conducted various talks on the Harassment law in Pakistan. She is also a trainer in the areas of Law ethics for HRM in Pakistan. Her areas of interest are Corporate Law, Corporate Governance, Intellectual Property Rights and Industrial Relations.
She is a Certified Trainer for adult education and is currently instructing courses and trainings in the executive MBA at IBA where an elective Corporate Governance-code and practices in Pakistan is offered every other semester. Being a certified trainer for corporate governance she is also part of the team of faculty of Directors Training Program, training board members of listed companies, both public and private sector, as required by the SECP. She has advised a number of new startups on issues of formation of a suitable business entity and protection of intellectual property rights.
Mahreen has an LLM from Temple University in USA and LLB Hons from University of Westminster UK.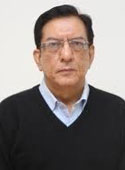 Dr. Qazi Masood Ahmed
Dr. Qazi Masood Ahmed, Professor of Economics served Institute of Business Administration, Karachi for the last 25 years as Chairperson, Centre for Executive Education from 2003 to 2009 and the Director, Centre for Business and Economic Research, from 2009 to 2019. In recent past served as a member, Tax Advisory Council, the Federal Board of Revenue, Government of Pakistan, member, Monetary Policy Committee, State Bank of Pakistan for five years and Chief Economist Government of Sindh for two years. In last 35 years served both federal and government in capacity of members of several tax commission, committees, and task forces, notably, member of Panel of Economist, Government of Pakistan in 2008. Currently serving member of Board of Governor, Sindh Education Foundation and member, Advisory Committee of Sindh government on NFC issues.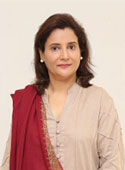 Dr. Khadija Malik Bari
Dr Khadija Bari has been associated with Institute of Business Administration (IBA) since 2002. She has moved up laterally, taking up various leadership roles in IBA since her joining IBA as a young PhD student.
Dr Bari chaired the Department of Economics and Finance at IBA from 2011 to 2017. In her capacity as the chairperson, she was instrumental in designing and developing new programs and new courses and restructuring undergraduate and graduate program curriculum at IBA. BS (Economics and Mathematics) was the first double majors' program to be offered by IBA. It was developed and launched during the first year of her chairpersonship.
Currently, along with her academic responsibilities as an Associate Professor at the School of Economics and Social Sciences (SESS), Dr Bari is responsible for setting up Population Research Center (PRC) at IBA. This center has been established in collaboration with the United Nations Population Fund (UNFPA) and the Population Association of Pakistan. As Director PRC, she aims to bring together scholars from interdisciplinary backgrounds to collaborate and conduct research on core population-related domains such as health and gender issues.
Dr Bari has represented IBA on various platforms. She was selected as a member of National Textile Strategy committee constituted in 2005 by the then Prime Minister of Pakistan Mr Shaukat Aziz. She was also a member of the Standing Committee of Research and Policy at Federation of Chambers of Commerce and Industry (FPCCI) in 2016-2017. Dr Bari is regularly invited to conduct a module in the research training program at Command and Staff College Quetta.
Over the span of her career, Dr Bari has contributed extensively to various committees at IBA. She is the chairperson of Financial Assistance Committee (FAC) at IBA. It is a university wide committee with ten members. FAC is responsible for assessing the needs of students applying for financial assistance. It approves need-based scholarships for deserving students in IBA. She is also the chairperson of Student Conduct and IBA Standards Committee. This committee deals with student disciplinary concerns and is currently in the process of revising Students Handbook. Dr Bari has also been appointed by the Dean of School of Economics and Social Sciences (SESS) as the chair of newly established Performance Review Committee. It is an advisory committee with eight members. The primary task of this committee is to identify areas of improvement, both administrative and academic, with the School of Economics and Social Sciences and give recommendations to the Dean of the School. Apart from this, Dr Bari is also a member of Research Ethics committee at IBA.
In her personal capacity Dr Bari has set up a small informal organization (unregistered) called Bawaqar Rozgaar to help consolidate and channelize charities towards providing self-sustaining income opportunities to the needy. This organization works on the premise to help establish and develop income generating prospects for the underprivileged people that are excluded from mainstream sources of finance in our society.
Mr. Nasir Mahmood
Mr. Nasir Mahmood is a mechanical engineer (batch 1974-78) from the NED University of Engineering & Technology, Karachi. He has over 36 years of local and international field experience working with different industries including metal works, trailer manufacturing, food industry, textiles, pharmaceuticals, etc. He has a reasonably good experience working as head of both production and maintenance. He was intensively involved in production planning and control, factory administration, maintenance management, etc. Working in a key position, he had the opportunity to bring radical changes in the industry. Previously he worked as senior process engineer, and was tasked to improve processes with the objective of critical examination of processes in order to reduce both manufacturing cycle time and cost. He was intensively engaged in energy management and auditing, safe management of factory, compliances and factory laws, quality assurance, maintenance, etc. He implemented lean and 5-S, and was also engaged in materials management and warehousing. He has researched inventory management and have uniquely presented MUSIC 3D (Multi-Unit Selective Inventory Control). His techniques helped various industries in reducing inventory level, and simultaneously improving customer service level. Apart from industry experience, he has been intensively engaged in teaching and executive training. He started his career as Lecturer at NED UET, followed by a vast exposure of industries.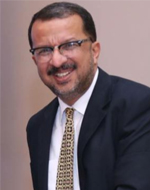 Mr. Hussain Adenwala
Hussain is an accomplished HR professional with over 20 years of HR leadership roles at leading MNCs Eli Lilly, GSK and Gillette with solid contributions to his credit from people development to conceptualization, designing and implementation of wide range of HR processes such as compensation and benefits (C&B), performance and incentive management, etc.
Many of his designed processes have been recognized as Best Practices and replicated in various countries. He has hands on experience on working on the harmonization of C&B elements and HR policies & processes during mergers, designing pay structures and job grading system.
He has facilitated and moreover conducted salary & benefits surveys and is well regarded as a C&B expert in the country.
Hussain has worked in the capacity of Associate Director Compensation Asia Pacific and Middle East and was part of global compensation team at Eli Lilly. In that role he was consulting for countries in Asia Pacific, Middle-East and South Africa. Currently, he is Director & HR Consultant at HRFIRST, an HR consultancy firm. He is an MBA in general management and has acquired learning in HR Strategic and Leadership programs from Australia, USA, Europe and China.
Mr. Ali Zulqarnain
Mr. Ali Zulqarnain BE (Mechanical), Master (with Specialization in Manufacturing), PhD. (in-progress Quality), Certificate & Quailed Six Sigma Black Belt (SQII-2012/00187), is Assistant Professor and Ex-Director Industrial Liaison –NED University of Engineering & Technology Karachi. He has more than 19 years of Teaching & Industry experience. He has successfully complete several Six Sigma and related projects at various organizations and currently engaged in implementing Six Sigma at various organizations. He has published 04 International/National Journal Research Papers in the domain of Six Sigma. His research interests are Six Sigma, Statistical Process Control, and Cost of Quality. Mr. Zulqarnain has experienced of teaching at NUST (PNEC), IBA, IoBM, PIQC. He has conducted several Trainings/Workshops and Consultancies at deferent platforms. Mr. Zulqarnain is passionate to implement "Total Quality Culture" within the organizations of Pakistan
Mr. Muhammad Farhan
Muhammad Farhan is a Human Resources Business and Organizational Development Professional with a track record of 14 years of significant value-added accomplishments in various areas of Human Resources Business Partnerships. He has broad-based functional experience in both local and multinational organizations. Farhan is a SHRM –SCP, SPHRi certified professional and Lead OHSAS Auditor. He has adequate knowledge of ILO (International Labor Law), Pakistani, UAE, KSA & Qatar Labor Laws. (In general).
He is currently working as Lead Consultant and Master Trainer and working on various projects related to Organization Development, Strategy Design & Implementation, HR Audit, Job Analysis & Evaluation, Reward Management, 360 Leadership Development Assessment, Executive Coaching, Training Solutions and HR Analytics Implementation.
Previously, he was heading the HR, OD & HSE function of Dollar industries and had work experience with TCS. Farhan trained participants from top multinational and local companies like GSK, M&P, OCS, TCS Private Limited, Citiscape L.L.C, SCB, Sanofi Aventis, British Council, Aga Khan University, Aga khan Health, Tameer Microfinance, KASB Bank, Innovative, Sybrid, Systems Limited, Packages Limited, Al-Karam, National Foods, Shan Foods, US Denim Mills, Volta, Kohinoor Textile Mills, Bahria Town, HBFC, MAL, Nizam Energy, Chase-up, Shaheen Air International, Daraz.pk, AKUH just to name a few.
He has spoken at industry forums and has been a Visiting Faculty & Research Advisor at the leading business schools of including IBA, SZABIST &CBM.
Muqtadar Quraishi
Muqtadar Quraishi has taught energy economics, energy policy and the energy value chain as a faculty member-at Cornell University, USA for the last 5 years, from where he brings the latest in the field of energy to our workshop. Prior to this appointment he worked in the energy and chemical industry for over 30 years in senior positions with Caltex, Chevron and Exxon, both in Pakistan and abroad. Areas of expertise include strategic and business planning, supply chain management and optimization, acquisitions, project design, evaluation, development and management.
Mr. Quraishi has been a board director with Chevron Pakistan. He was also a director on the board of Pakistan Refinery Ltd. He also served on the board technical and audit committee of a large joint venture pipeline project. He retired from Chevron in 2014 after 24 years of service, as head of Value Chain Optimization functionally covering Pakistan, Egypt and the Middle East. He was also one of the authors of Pakistan's Integrated Energy Plan sponsored by the Government of Pakistan.
He has also taught Supply Chain Management at the Institute of Business Administration, Karachi, over a five-year period as an adjunct faculty. Mr. Quraishi holds a B.S. degree in mechanical engineering from Brown University, USA and a Masters in Engineering from Cornell University. He is also an MBA from IBA, Karachi.
Dr. Khurram Sharif
Dr. Khurram Sharif is a business Faculty at Qatar University and an advisor to Mega Consult; a Saudi Human Resource Development and Marketing Consulting firm. He has taught, trained and consulted in the GCC and the Sub-Continent region. His experience ranges from Pharmaceutical Sales, Vocational Training and Higher Education. He is a master trainer who has worked with a number of international blue chip clients to include Qatar Petroleum, Unilever and Roche Diagnostics. Dr. Sharif uses 'experiential' approach to training where he involves himself and the participants in the knowledge creation and learning process. He did his MBA from Lancaster University and his PhD in Business-to-Business Relationships' from Kingston University, United Kingdom.
Mr. Abdur Rauf Shaikh
The Assistant Director in Federal Investigation Agency (FIA), Mr. Abdur Rauf Shaikh. He is having a vast experience of 19 years in investigation of white collar, transnational and organized crimes. Mr. Rauf is also a Certified Anti-Money Laundering Specialist (CAMS) and holds a Masters degree in Transnational Crime Prevention from the University of Wollongong, Australia.