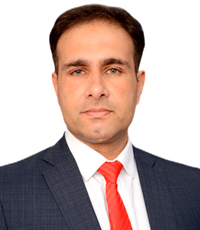 Muhammad Rizwan Khan, CFA
Muhammad Rizwan Khan, CFA is a real estate professional with extensive experience in strategy formulation for large scale real estate development and construction projects. His expertise includes financial modelling for real estate projects, joint venture formation, due diligence, escrow accounts, cash flow planning and financial analysis.
Muhammad Rizwan Khan is the Director Real Estate Advisory at Akseer Research. He is also the director, and CEO of the Alpha Hycon (Private) Limited, a real estate development company. In the past, he has served as the Chief Investment Officer in DHA Karachi. During his tenure at DHA, he has played a key role in the conception and initiation of large scale land development and construction projects, revival planning and organizational strategy formulation. He has also provided consultancy for projects in DHA Islamabad, Army Housing Directorate, AWT and other developers.
Muhammad Rizwan Khan is the author of the book "Real Estate Development in Pakistan". The book is the first of its kind in Pakistan and discusses real estate development from planning, strategy, deign, valuation and executive decision making aspects within the regulatory and operating environment of Pakistan.
Muhammad Rizwan Khan holds Chartered Financial Analyst designation from the CFA Institute, United States and is a member of the CFA Institute as well as CFA Society, Pakistan. He has completed Real Estate Management: Finance, Design and Leadership course from Harvard Business School, offered in collaboration with Harvard Graduate School of Design. He has completed various trainings and certifications including construction finance, financing and investing in infrastructure, private equity and venture capital, Islamic banking and Takkaful, and financial modelling from various institutions.
---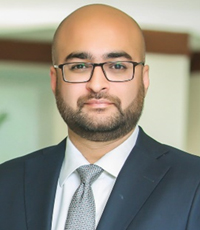 Hammad Rana
Hammad Rana is the country head of Savills Pakistan (formerly known as Colliers Pakistan). He is responsible for business development and oversight of all the business lines offered by Savills in the country. He also serves on the Operations and Strategy Board for the Savills Middle East region.
He has extensive real estate experience in Pakistan and is credited for providing transaction advisory, valuation, highest and best use studies, financial feasibilities, portfolio optimization and turnkey fit out projects for some of the most renown corporates, family offices and developers. His vast list of clientele includes MNCs, large local business groups, institutional clients, government ministries/agencies, family offices, and HNWIs. He has also worked as an advisor to the Government of Pakistan on the privatization of real estate assets.
Prior to joining Savills, Hammad worked at FMV Opinions, Inc, a business valuation firm, in their New York office. He is a dual degree holder in Finance and Mathematics from Indiana University, Bloomington, USA.
---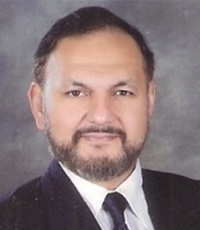 Brigadier Hasan Raza, SI(M) (Retired)
Brigadier Hasan Raza (Retired), is a civil engineer with the professional experience of more than 40 years in the fields of civil engineering and project management. During his long, illustrious and diverse career, he has managed large scale development, construction and rehabilitation projects spread across Pakistan.
He has played the key role in conception, planning, execution and delivery of large scale development projects in DHA Karachi, Port Qasim Authority, Pakistan Army Installations and Emaar Ocean Front. His expertise includes engineering management, conflict resolution, project restructuring and strategic planning for the large scale projects.
Brigadier Hasan Raza (Retired), is currently the consultant for Emaar Pakistan. In the past, he has served as the Chief Engineer and Senior Project Director in DHA Karachi, Project Director in National Logistics Cell (NLC) and Director Operations in Frontier Works Organization (FWO). During his military service, he has commanded an Engineer Battalion and an Engineer Brigade and served as Military Observer with the United Nations (UN).
He holds Bachelors in civil engineering from National University of Sciences and Technology, Masters in engineering management from NED University and is also a graduate of Command and Staff College Quetta.
---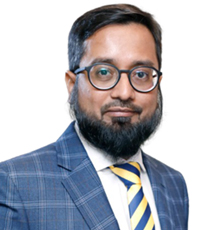 Ali Asgher, FCMA, CGMA, MBA (Faculty)
Ali Asgher is a seasoned real estate development professional with over 16 years of experience. He is the CEO of TPL REITs Management Company and has been associated with TPL Group for over 14 years. He has held several senior level and board positions across group companies and directed TPL Properties to deliver Pakistan's first sustainable real estate development and listed TPLP on PSX.
Presently, he serves on several boards such as TPL Trakker Limited, TPL RMC, HKC, TPL Technology Zone, TPL Property Management Limited, TPL Logistics Park and TPL Investment Management Limited at Abu Dhabi Global Market (ADGM).
Ali Asgher has successfully structured and closed capital raising transactions worth over PKR 50 billion, including IPOs, M&As and Debt. He has raised substantial financing in equity and debt over his career, in multiple sectors including insurance, technology and real estate development. His expertise includes strategic business management, financial management, value chain analysis, procurement and project management. He has extensive experience in implementing ERP solution and process automation.
Ali Asgher is a Fellow Member of the Chartered Institute of Management Accountants (CIMA) in UK, holds an Executive Education from Wharton School, USA in Leadership, a certified director and also did MBA with concentration in Finance.
---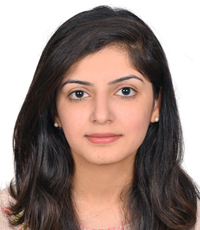 Saniya Bilal Doni, CFA (Faculty)
Saniya Bilal Doni is a real estate sales and marketing professional. She has extensive experience in sales and marketing strategy formulation for luxury real estate projects across Pakistan, Canada and Middle East.
Saniya Bilal Doni is the founder and CEO of YAS Real Estate, a luxury real estate marketing and brokerage firm. YAS Real Estate works with Emaar Pakistan, H&S, HMR Water Front, Otel Residency, Eighteen Islamabad and other renowned high end real estate developers for managing sales and marketing operations in green field and brown field stages of development.
During her career, Saniya has worked in key roles at Canada Pension Fund Investment Board and Abu Dhabi Investment Authority specializing in real estate and infrastructure investments She played a pivotal role in notable transactions such as the acquisition of London Gatwick Airport in the United Kingdom and, Port of Brisbane and Port of New South Wales in Australia.
Saniya Bilal Doni is the graduate of Rotman School of Management, University of Toronto and holds the CFA designation from the CFA Institute, United States. She is the member of CFA Institute as well as CFA Society Pakistan. Saniya is also a Licensed Real Estate Sales Professional in Ontario, Canada.
---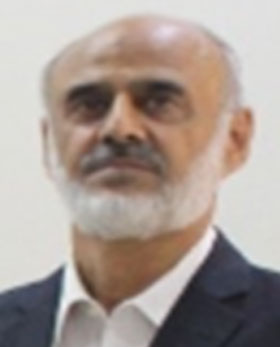 Perwez Shafi, Ph.D. (USA)
Dr. Perwez Shafi is a renowned scholar, author and editor of number of publications on Labour Laws, Human Resource, Industrial Relations and Social Compliance. He is a leading commentator on labour laws, advisor and consultant to national and multinational companies, corporate trainer, and involved in research and teaching at various educational institutions. Since 1994, he is Director of BUREAU OF LABOUR PUBLICATIONS -- a private well-respected and authoritative research and publication institution.
Dr. Shafi is co-author and commentator on authoritative, comprehensive and up to date LABOUR CODE OF PAKISTAN -- a standard and essential reference book on labour laws and industrial relations for industrial and commercial establishments and consulted from Labour Courts to Supreme Court. He is also an editor of EASTERN WORKER -- a bi-monthly journal of Labour Laws, Industrial Relations, HR and Social Compliance -- to keep abreast with latest legal developments on the subject. He has a 20-year experience working in the West.
He also acts as a Labour Law Advisor to number of national and multinational companies who benefits from his advice and consultancy with a focus to avoid litigation. He is also consulted by foreign certification and auditing companies like US's AGC for Social Management systems, German Friedrich Ebert Stiftung (FES) and Wuensche, PHMA, SMEDA and Pakistan Society for Training and Development (PSTD), etc.
As a trainer, he conducts in-house and open-house corporate training workshops for HR, IR Managers, technical and line managers to sharpen their legal skills when facing workers. The in-house training sessions have been on labour laws with case laws for multi-national companies like Pakistan Tobacco Co., Pepsi-Cola International, etc.
Beside his normal research activities, Dr. Shafi also at teaches at number of educational diploma-awarding institutions like Center for Executive Education--IBA, NILAT, and PIQC on the subject of labour laws, industrial relations, human resource and social compliance.
---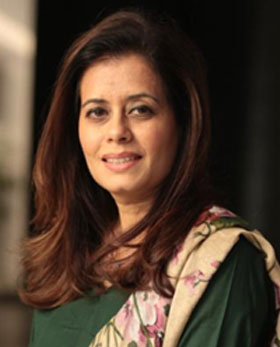 Dr. Saima Husain
Dr. Saima Husain is an Assistant Professor in the Department of Marketing and the Director, Quality Enhancement Cell (QEC) at the Institute of Business Administration, Karachi. She has previously served as the Chairperson, Dept of Marketing at IBA, Karachi.
She completed her Ph.D. in consumer research from the University of Southampton, UK and is an MBA (Marketing) from the Institute of Business Administration, Karachi. Her research interest revolves around consumption in the non-Western cultural and religious context. She has published case studies and research papers in local and international journals. Dr. Saima continues her research work in collaboration with both local and international colleagues. In addition to research, she has been engaged in some industry assignment with corporates like Khaadi, SMEDA, Khushhali Bank Ltd. and UEP. Her recent assignments include corporate trainings from the platform of Center for Executive Education, IBA.
Dr. Saima has been associated with the IBA Karachi in a teaching role since August 2006. She has been teaching Marketing courses such as Brand Management, Marketing Management, Consumer Behavior and Marketing issues in Pakistan in the undergraduate, graduate and executive education programs. Her administrative role with the QEC involves ensuring compliance with the policies of Higher Education Commission (HEC) and contributing in the national level deliberations
---
Dr. Rameez Khalid PHD (Faculty)
Dr. Rameez Khalid is PhD & MS Industrial Systems from INP Toulouse, France and BE (Mechanical) from NED UET, Pakistan. Dr. Khalid is Former Director Center for Executive Education with Assistant Professorship at Institute of Business Administration (IBA), Karachi. He is the former Director Business Administration (MBA & BBA), former Chairman IBA's Consultant Selection and Central Procurement Committees. Earlier, he was affiliated with NED University. He also worked as the Deputy Management Representative ISO9000 of NED University. He has audited PPL & NED on ISO-9001:2008 and ISO18001-2007. He has taught Supply Chain Management, Project Management, Operations & Technology Management, Organizational Systems, Six Sigma, Procurement Management, and Industrial Engineering at the Postgraduate Level. With especial focus on emerging economies, his research interests are: Project Management Maturity, Warehousing, Risk Management for Projects & Supply Chains, Six Sigma Implementation, Negotiation, Innovation Culture and Supply Chain Performance Measurement.
TRAINING PROGRAMS:
Rameez has experience in developing business leaders, as he has trained more than 4500 professionals at various platforms (in public & private sectors). He is frequently invited in seminars/workshops as Guest Speaker &/or Panelist, e.g.:
ASP Program on "Procurement Management" at RECD-LUMS, Lahore
PPL Training on "Cost of Quality" at Sui, Adhi & Kandhkot Gas Fields
SSGC Training on "Project Management" at GTI, Karachi
Workshop on "Cost Cutting Strategies" at Hinopak, Karachi
TSML Seminar on "Project Management Framework" at FTC, Karachi
Engro-Powergen Workshop on "Risk Management" at Coal Mine Thar
PAAPAM Project Management Workshop at Marriott, Karachi
PROJECTS & CONSULTANCIES:
Rameez has successfully completed numerous projects, where he applied various tools of Management Sciences. His project/consultancy highlights are:
Progress Measurement in clinical trials' project for a French Pharma
Implementation of PMI's PMBOK Best Practices at TSML
Six Sigma projects at DYL, Dawlance and IIL
Designed PGD Supply Chain Management Program at IBA Karachi
SCOR model's deployment at an E&P Company for Purchasing Dept.
Consultant for Cost of Quality deployment at Sui Gas Field for PPL
Consultant at SEF for HRM and Recruitment
Audited PPL's QHSE department for ISO-9000 and ISO-18000
Wrote a Strategy Paper for ICI Pakistan regarding 'Innovation Culture'
Consultant for two Development Projects for GoS in Tharparkar
Consultant for PMO's SOP deployment at IITC-Hyundai
Gap Analysis of Warehousing Ops at TAV Ltd. (Mothercare; Crocs etc.)
Audited AKUH, SouthCity, LNH, Ziauddin, Tabba & Indus Hospital for SHCC
CERTIFICATIONS:
Certified Board Director – SECP
CQSSBB – SQII, Singapore
PMP® - PMI, USA
Lead Auditor: QMS and OHSAS
Auditor: Supply Chain Security
Mgmt. Sys. (ISO-28000)
Certified Trainer of
Public Procurement, SPPRA
CPSM – ISM, USA
OCP – Oracle, USA

AFFILIATIONS (Past /Present):

Member ISM (AZ, USA)
Member ASQ (WI, USA)
Member APICS (IL, USA)
Member PMI (PA, USA)
Member PEC (Pakistan)
---

Rahat Aziz
Rahat Aziz, Advocate is the Managing director of S.A. Associates and visiting Faculty at IBA, Karachi. He, with his team of professionals at S.A. Associates is a conglomerate of professionals from diversify disciplines of Corporate Infrastructure with the objective to provide its Clients the best services to meet their needs and requirements. He has arranged different training programs for leading institutions like SBP, SECP, Pakistan Navy and many others and is among the lead trainer of ICAP'S Directors Training Programapproved by SECP. He is the Master trainer with USAID. The Asian Foundation for NPO/NGO programs. He has been engaged with different forums like IBA-CEE, CMEC-IOBM, EFP, NIBAF-SBF, SECP-KTBA, Institute of Leadership Development etc.