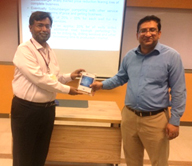 Guest Speaker Session
Mr. Farhan Pasha, GM Procurement PSO, visited again IBA on 3rd December, 2016 as a guest speaker. Mr. Pasha has over 20 years of extensive experience in the Supply Management of Oil & Gas Sector. He addressed the PGD Supply Chain Management class in the course of "Managing Contracts & Supplier Relationships". He shares the ground realities of supplier relationships, strategic sourcing and challenges in the procurements of a public-sector company in the oil & gas sector of Pakistan.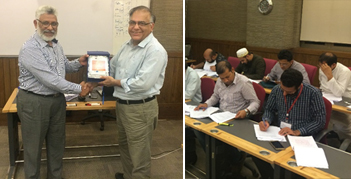 ISO 28000-2007 Certification
IBA's PGD-SCM Program sought collaboration of Lloyd's Register in delivering a IRCA certified training on ISO 28000-2007. This standard is known as the "Supply Chain Security Management System". The lead trainer and experienced assessor Mr. Raheel Ehsan of Lloyd's Register visited the PGD-SCM program of CEE, IBA Karachi and delivered this certification workshop in December 2016. In these sessions, he made the participants brain storm for the risks around supply chains of various products and services. This workshop helped participants to comprehend the field of Auditing by going through the basics and then applying on various scenarios. The workshop finished with an exam for the ISO-2800:2007 Certification.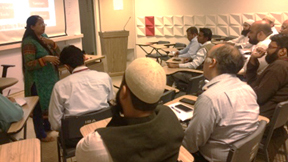 Writing & Referencing Session
The Head of IBA's Cowasjee Writing Centre, Ms. Maria Hassan spoke to PGD-SCM participants on 30th December, 2016. She instructed the PGD-SCM participants on how to write professional Project Reports and amplify their familiarization with protocols. She articulated about the application of writing as a skill and pointed out the structure, citation of published authors, rules of punctuation, grammar and style, common alignment and signposting in writing a Formal Project Report which lead to professionalism. Individual queries were handled as well and participants took keen interest to fill their gaps in writing formal and impactful reports.

Guest Speaker Session
Mr. Kashif Rahim Safety & Environment Manager of Indus Motor Company delivered a Guest Speaker Session on 29thOctober, 2016. The session was about 5S Simulation which he led with hands-on activities. He explained the participants all the aspects of 5S Activity at IMC, 5S mechanism in Indus Motors, 5S Plan, Management Board, Check sheet, Observation Ranking criteria and many more. He also rekindled the skills of participants to execute 5S both at the higher and operational level.The session ended with boundless exposure to this very important methodology of Lean and TQM for the participants.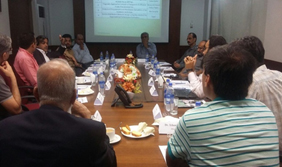 3rd Advisory Committee Meeting
For achieving the objectives of the PGD-SCM Program and giving fresh direction, the third Advisory Committee Meeting was called on October 2nd, 2016. The discussion panel consisted of high profile supply chain specialists both from industry and academia. A healthy debate took place around: Administration policies of the Program; PGD-SCM Capstone Project Handbook and selected TORs; and Course Contents. Furthermore, faculty members' experiences and participants' feedback was also discussed to maintain the quality of this program. Individuals who participated as an expert were: Qaysar Alam (President SCAP & Aaramshop, BoD Al-Shaheer), Hanif Ajari (Director Strategic Development, Getz Pharma), Ali Imam Qadri (Procurement Specialist RSU, Govt. of Sindh), Saif Uddin Bandukwala (CEO, GS1 Pakistan), Naeem Ilyas Khanani (Director Operations, Shield Corp. Ltd.), Ali Zulqarnain (Director Industrial Liaison, NED), Faisal Jalal (CEO, Sinofeng), Syed Ghazanfar Ali Shah (HOD Supply Chain, IIL), Asad Nizamani (Senior Manager Imports, Abbott Labs.), M. Salman (Supply Chain dept., ICI), Shaheryar Najeeb (Procurement Officer, PPL), S. Nasir Ali (Procurement dept., PPL), Dr. Izhar Hussain (Director CEE, IBA) and Dr. Rameez Khalid (Academic Director PGD-SCM, IBA)

Guest Speaker Session
President SCAP & Aaramshop, BoD Al-Shaheer & GS1, and the President Supply Chain Association of Pakistan (SCAP), Consultant and a renowned Speaker/Trainer, Mr. Qaysar Alam, having a work experience of 29 years at Unilever Pakistan, conducted a Guest Speaker session on: "Challenges & Solutions in Managing FMCG Supply Chains in Pakistan". This event was organized by PGD-SCM Program Office, CEE-IBA-Karachi on 23rd September, 2016. More than 100 individuals from various renowned companies at various levels such as: Directors, CEOs, HoDs and Managers showed interest and attended this session. PGD-SCM Students were present at this important event. M. Qaysar Alam shared his immense knowledge & experience in achieving efficiencies in speed, service and cost. He acutely discussed about the Globalization of manufacturing operation, safety and quality of the product, supplier base consolidation, access to the latest technologies, improvement of productivity, profit maximization by smartly reducing the supply chain cost, managing demand volatility and protocol of S&OP. He molded the perspective and understanding of managing the FMCG Supply Chains under current challenges, he also laid a deep intuition to their solutions. This session expanded the horizon of each participant and constructed a sound ground to understand the future needs of Supply Chain in Pakistan. The session concluded by bestowing the memento to the Honorable Guest and with the vote of appreciations from the audience.
To watch the Coverage of the whole session you may visit the following link:
https://www.youtube.com/watch?v=CsdQYt3Z3qY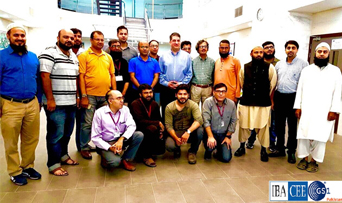 GS1 Workshop
As last fall, the lead trainer Mr. Terry Papadis, Manager (Education and training) GS1 Australia, again visited the PGD-SCM program of CEE, IBA Karachi for 3-days (2-4 Sept. 2016) for delivering a workshop on GS1 for PGD-SCM Participants, the most widely used supply chain standard in the world, where he discussed about barcodes and RFIDs, and their applicability in managing supply chains.
GS1 Standard, a best practice of supply chain management (SCM), enables businesses to achieve excellence in SCM, product traceability and operational effectiveness & efficiency using Barcodes, RFIDs and EDI etc. This workshop helped participants to comprehend the complex correlation of GS1 and Integration, as it guarantees that barcodes and unique numbers can be acknowledged at local and international level as well as by the major retailers and distributors.
This GS1 Academic Certification was an interactive workshop that provided insights into the best practices of supply chain management by the strategic application of the GS1 standards. It was based on role-play, and simulation of typical business scenarios that require practical and realistic solutions. At the end of this course participants also presented different cases which enhanced their cognitive levels and boosted their adaptability and business thinking.