PGD-SCM is a program that has been developed to fill the competency gap. This program will transform the participants, no matter which area of the supply chain they belong to, into Supply Chain Specialists. We will develop them into life-long learners by providing an environment which is full of rigor and relevance. This will prepare them how to deal with existing and future challenges by developing their supply chain acumen, leadership skill, professional ethics and social sense.
Who should attend?
Management level Executives wanting to enhance their skills in the supply chain management area.
Those who are managing supply chain of any magnitude
Anyone who opt for SCM (Mid-career shift)
Test & Interviews
Preliminary Test and Interviews will be conducted to shortlist the candidates.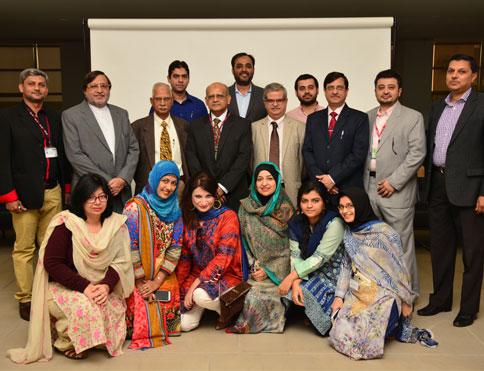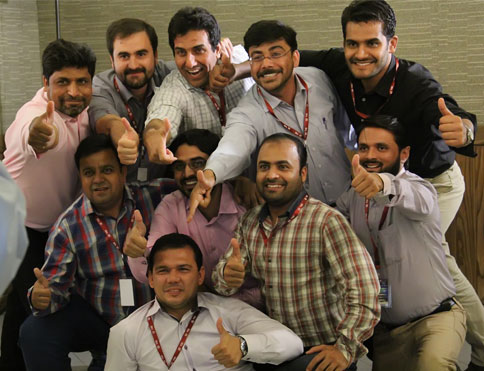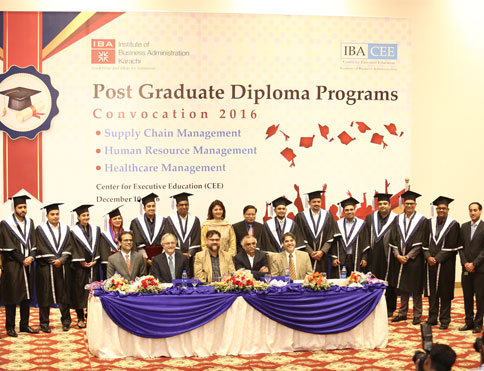 After successfully completing PGD-SCM program, the participants will attain an ability to:
Define and express fundamental issues at the strategic, design /tactical and operational levels in managing supply chains.
Identify and illustrate the basic upstream, operations, downstream and integrations elements for effective supply chain management.
Know and comprehend local and global contemporary issues having implications on supply chain management.
Apply modern modeling and simulation techniques, along with supply chain relevant standards, best practices, technology and computing tools.
Identify, formulate and solve supply chain problems, and balance between the business and human factors while choosing among alternatives.
Critique on elements of a supply chain strategy and their impact on business objectives along with recommendations for improvements.
Continuously engage in education, professional development and personal effectiveness.
Manifest project management and team skills in diverse cultural setting.
Communicate effectively with written, oral, and visual means in a technical setting.
Appreciate the importance of ethical, social and environmental issues with business dilemmas.
To develop ethical and competent supply chain leaders by:
Providing knowledge of strategic, design /tactical and operational issues in managing supply chains.
Exposing to upstream, operations, downstream and integration elements, with an especial emphasis on integration.
Creating both the local and global mindset with national, regional and global business perspective.
Grooming competencies in supply chain relevant: standards, best practices and technology.
Motivating for life-long learning, e.g. admitting in post-graduate studies and preparing for renowned international certifications.
Enhancing: creative; analytical problem solving; project management; team; and communications skills.
Building business ethics with social and environmental sense.
Cours Plan
12 course
3 trimesters; 4 courses in each trimester
1 year program
Weekend program
Saturday 02:30pm - 05:30 pm & 06:00 pm – 09:00 pm
Sunday 10:00 am -- 01:00 pm & 02:00 pm-05:00 pm
The Testing Procedures*
The testing procedures are congruent with these pedagogical objectives and are designed to ensure that these are achieved. Students will be assessed on the following:
| | |
| --- | --- |
| Course Evaluation | |
| Class Participation/ Presentation/ Quiz | 15% |
| Midterm exam | 20% |
| Case study | 20% |
| Group Project | 20% |
| Final Exam | 25% |
| TOTAL | 100% |
*could be changed as per nature of courses.
Salient Features
1 year weekend program
Guest speaker sessions
Real life learning
Simulations
Case study based teaching
Industry trips
Live projects
Video conferences
Eligibility
Applicant must have a bachelor's degree from HEC recognized educational institution in any area of study and:
14 Years Education with 6 years post-qualification work experience
16 Years Education with 3 years post-qualification work experience
Note: Preliminary Test and Interviews will be conducted to shortlist the candidates.
Pedagogy
In-depth study of various projects in Pakistan
Learning from the best practices & functions of projects around the world:
Case Studies
International Journals
Text Books
Standards & Certifications
Governmental Laws' & Regulations'
Lecture (Class room & Video Conference)
Project (Live business cases from the organizations)
Group Activities / Simulations/ Syndicate/Discussion Rooms
Visits: Strategic Supply Chain Locations
1. How strong is the job market of supply chain?
There is a tremendous growth in this market and one can follow the various job postings in a sample of newspapers. Some keywords, that these supply chain relevant job postings usually have, are as follows: Procurement /Purchasing /Sourcing, Operations /Production, Logistics /Transportation /Warehousing, Distribution, Import, Export, ERP, Quality, Sustainability, and Forecasting. These are on the rise in the wake of numerous local and global events, such as OBOR (One Belt One Road) and CPEC (China Pakistan Economic Corridor).
2. How one would be able to land a job in supply chain after enrolling in IBA's PGD Supply Chain Management program even having less relevant prior experience?
PGD-SCM is designed to:
(a) Fill the competency gap in Professionals who are working in Supply Chain relevant fields.
(b) Prepare mid-career Professionals for career switching opportunities.
In this light, this program can help a participant having less relevant prior experience to land a job in supply chain. PGD-SCM is a program launched in 2015 that focus heavily on developing the right skills and the same are taught by a mix of IBA's top faculty and renowned industrial experts. This shows that the participants connect with the right people from the first semester, following the motto: "Your Net Worth is Your Network"!
3. If a person is almost in the middle of his career; does he has to start from the scratch?
This can be the situation; however, the chances are remote. Mostly, PGD-SCM participants get a new role in the same organization with elevated /responsibilities /position /grade /salary or some have switched to bigger and renowned organizations.
4. How prudent it would be to study a new field after having years of experience in a non-related field, say finance for example?
There are many participants of PGD-SCM, who had the same case. They are coming to the program with various objectives, such as: quality of knowledge imparted in the program; fill their knowledge gaps; fill their skill gaps; switch to supply chain relevant positions in or out of their companies; promotion; interest in escalating to a more general management position than the specific current one, and; some are sent /funded by their organizations so that they can add value to their existing JDs.
5. How important it is to switch my field to Supply Chain?
This question cannot be completely answered as the urgency and importance are judgmental. However, if we consider the supply chain relevant current buzz words, such as: "Supply Chain Finance", "Supply Chain Analytics" and "Supply Chain Security", then we see that IBA's PGD-SCM is one of the very few programs in Pakistan that is offering courses that have these contents. IBA's PGD-SCM Program has partnered with various global organizations, such as: GS1-Pakistan (for sharing their knowledge of Global Standard of Barcodes, EDI and RFID Solutions with PGD-SCM participants); inChainge (for their supply chain finance simulation 'The Cool Connection', played by the PGD-SCM participants); Lloyd's Register Pakistan (for channeling their expertise on ISO-28000 – a standard on Supply Chain Security Management System to PGD-SCM participants); Lanner Group & Manchester Metropolitan University's Faculty (to deliver program to PGD-SCM participants on the modeling and simulation software: Witness), and; SAP University Alliance (so that PGD-SCM participants may access SAP's Modules). These highlight among others can definitely help a candidate in switching with confidence.
6. Will IBA assists in finding a job that a PGD-SCM graduate deserves?
IBA has an institutional mechanism 'Career Development Center (CDC)' especially for this purpose. PGD-SCM participants can seek their guidance as required. A reality check, however, will be that CDC was developed to focus majorly on unemployed students, such as: Bachelor Degree programs (BBA and BS etc.) along with MBA Morning program. Other channels that a PGD-SCM participant can tap for this purpose are: (a) industries frequently approach IBA for recruitment, and subsequently PGD-SCM Program Office sends the participants these relevant job openings via email or other social media; (b) faculty member of PGD-SCM program work closely with industry as they have strong industrial linkages and thus can become an important source for jobs, and; (c) majority (above 95%) participants of PGD-SCM are already working at a senior to middle management positions, this developed student (classmates) network can further help in creating opportunities.
7. Is it worth spending time and money on this program?
Depends on the priorities one has and the direction one would like to go. See the program in detail (cee.iba.edu.pk/PgdScm.php) and then decide whether it suits you or not. Also, IBA is listed is listed by ISM (Institute for Supply Management) in 2016 for its PGD-SCM program:
https://www.instituteforsupplymanagement.org/membership/content.cfm?ItemNumber=20788&navItemNumber=5574)
SCM Likely Job Titles
ERP Power User
Fleet Manager
Forecasting Analyst
General Manager SCM
Head of Exports
Material Manager
Plant/Factory Manager
Procurement Manager
Production Manager
Project Manager
Spend Analyst
Supply Chain Consultant
Supply Chain Performance Auditor
Supply Chain Quality Specialist
Supply Chain Risk Manager
Logistics Manager
Participants from these Organizations
Getz Pharma Private Limited
Atco Lab
Marie Stopes Society - RHF Project
Abbott Laboratories Pakistan
Indus Motor Company Ltd.
International Industries Limited
Reckitt Benkiser Pakistan
USAID
Syngenta Pakistan Ltd
Pharmatec Pakistan (Pvt) Limited
Centegy Technologies
Thatta Cement Company Limited
Tapal Tea Pvt. Ltd.
Atlas Honda Limited
Yunus Textile Mills Ltd.
Shangrila Pvt. Limited
Shabbir Tiles & Ceramics Ltd.
Shan Foods
Darul Sehat Hospital
Pakistan Army
Vertex Pvt. Limited
Shell Pakistan Limited
Pakistan State Oil
Zameen.com
Tabba Heart Institute
Anwar Textile Pvt Ltd
Bank Islami Pakistan Ltd
Damco Pakistan Pvt Ltd
BAHRIA TOWN PVT LTD
Pharmevo (Pvt) Ltd.
Lucky Cement Limited
Tata Best Foods Limited
Ali Gohar & Company Pvt Ltd
WWF
Habib Metropolitan Bank Ltd
Ministry of Defence
Bakri Energy
Pak Suzuki Motors
Trauma Center-CHIC
Pakistan Security Printing
Colgate Palmolive Pvt Ltd
Agha Steel Industries
Mondelez International
Agility Logistics
Avicon
DP World Karachi
Connect Logistics
N's Creations
P&G
PIA
Archroma Pakistan
K Electric
Pakistan Wire Industries Pvt Ltd
Karachi Marriott Hotel
Habib Bank AG Zurich
Dalda Foods Limited
Indus Motor Company
United Marine Agencies (Agent: Hamburg Sud)
Bank Islami Pakistan
The leading faculty for the program is drawn from a mix of Academicians, Industry Practitioners, and globally renowned professionals.
Industry Practitioners
Scholarly Academics
Practicing Academics
Foreign Faculty from Globally Top-Ranked Schools