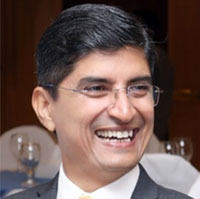 Mr. Shaheen Premani – Chief Operating Officer – TSL (Pvt) Ltd with innate qualities of entrepreneurial attitude and a visionary, one who loves marketing, finance and human resource management. His passion for Technology gives him insight of automation to streamline any tedious process. Currently, he holds a position that is accountable for all company performance, goals and bottom-line of GDS Business in Pakistan, Turkey, Afghanistan and Uzbekistan.
Started his career as a Software developer and grew to become GM at an early age. Mr. Shaheen steered TSL group from a start up in 1998 to a market leader today. The company has received various regional awards from its principal under his leadership. He is also recipient of Alumni Excellence award 2013 from the University he graduated from.
Under his leadership, the TSL Group grew the number of offices in from 2 to 12 and customer base in only 6 cities to over 78 cities in five countries ensuring highest level of customer support while distributing a combination of complex product with profitable output. Mr. Shaheen Premani is responsible for managing a profitable bottom line of the company and continuously strives to develop new Solutions for the travel trade.
Shaheen Left TSL Group to start his own technology business with a mission to bring travel industry online using state of the art technology.
On the personal side, Mr. Shaheen Premani has been actively engaged in community services at the AKDN institutions. He has served in Local and Regional Council for over 12 years, his last assignment was with National Conciliation and Arbitration Board (NCAB).
On assignment of NCAB, Shaheen conducted numerous trainings across Pakistan, between August 2013 and July 2016 in Gilgit, Chitral, Punyal, Karachi, Lahore, and Islamabad.
Shaheen Later was part of the training team at Merchant law associate and conducted trainings for Legal Aid Society and Sindh Judicial Council, in 2017, 2018, 2019, 2021 and 2022. I also conducted assessment of trainees at IBA with Navin Merchant in 2020.
Shaheen is an Alumni of Greenwich University with a degree in Master in Business administration with major in Finance and recipient of Alumni of the year award from the university in 2013.