This two-day workshop on improving and polishing training skills will follow a multi-layered design and a blended delivery approach. Its key objective will be to enhance the existing coaching and teaching expertise of the participants through an assortment of intellectual, practical and experiential learnings. By utilizing active and hands-on interactions, participants will have the opportunity to reinforce their current training abilities and develop new techniques. Participants will work in teams to create a conductive knowledge sharing environment that will involve role-plays, educational games, *LEGO Serious Play, individual assessments, team activities and group presentations. Throughout the workshop, the facilitator and the participants will provide continuous feedback.
In general, this workshop will help anyone who to become a trainer or improve as a trainer. In particular, workshop is highly suitable for university faculty (all levels) who want to polish and enhance their existing training skills for effective delivery of executive and managerial workshops/courses.
* LEGO Serious Play (LSP):
LSP is a facilitated visual communication technique that can be purposefully utilized in executive training. It draws on extensive research from the fields of strategic thinking, organizational development, neuroscience and effective communication. LSP is based on the concept of hand knowledge or tactile thinking. LSP ignites participants' imagination and insights through deep emotional involvement and total engagement.
Workshop Modules:
Module 1: Effective verbal communication during training
-Role of an effective trainer
-Verbal communication matrix – Your position as a trainer!
-Optimal environment for verbal training communication
LEGO Serious Play: Let's develop an effective trainer!
Module 2: Effective non-verbal communication during training
-Use of the body language during training sessions
-Gestures and expressions to enhance communication bandwidth
-Power of non-verbal talk during training delivery
Group Activity: You can lie but you cannot hide your body language!
Module 3: Presenting and delivering training content
-10-20-30 presentation approach
-Setting-up logistics for effective presenting
-Balanced content delivery during training
-How not to use PowerPoint in training?
Video clip: Effective ways to deliver training content
Module 4: Effective emotional communication during training
-Intelligence Quotient versus Emotional Intelligence
-Role of emotional intelligence in effective training
-Regulating and enhancing participants emotional involvement
Module 5: Communication for generating optimal learning
-Trainer and trainee participation equation
-ADDIE Model for optimizing training knowledge generation
-Initiating critical and active thinking during training
Module 6: Communication styles and their impactful utilization
-5Is of conducive communication
Individual Assessment - KOLB's Communication Style Inventory
Individual Discussion - Your communication style and pattern
Group Activity: Mobile phone press conference
Individual Activity: 5Es of active communication
Module 7: Using LEGO Serious Play Methodology (LSPM) for visual critical thinking.
-Thinking through hand brain.
-Power of 3D visual communication
-Use of imagination, metaphors and storytelling in training
Upon completion of the workshop, participants should be able to incorporate learned tools to energize their training sessions by:
Utilizing collaborative/interactive communications tools and techniques
Using experiential content delivery methods to engage participants
Communicate in a fun and an interactive manner
Identifying their communication style and fine tuning it for effective training
Applying active and blended learning tactics during training
Enhancing visual presentations through 10-20-30 approach
Adopting effective verbal and non-verbal communication skills during trainings
Adding visual critical thinking to their trainings through LEGO Serious Play.
Workshop delivery approach
A highly interactive and practical content delivery format will be used. Blended approach with emphasis on 'experiential' learning will be utilized to create a solid base for knowledge sharing. Effective attention generation and total engagement tools will facilitate real time learning. No prior workshop preparation will be required. All the materials will be provided during the workshop. However, some evening work may be a part of the workshop!
Duration of the workshop
Two days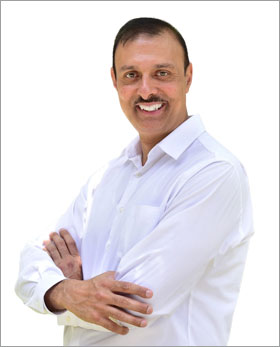 Dr. Khurram Sharif
Dr. Khurram Sharif is a senior member of the marketing faculty in the College of Business & Economics, Qatar University. He is also a business advisor to Mega Business Solutions, a Saudi Human Resource Development and Marketing Consulting firm. He did his MBA from Lancaster University and his PhD (in Business-to-Business Marketing) from Kingston University, United Kingdom. He has taught, trained and consulted in the Far East, GCC and the Sub-Continent regions. He has been involved with both offline and online teaching and training in Qatar (Qatar University and Qatar Science and Technology Park), United Kingdom (University of West London), France (KEDGE Business School, Marseille) and Malaysia (University Technology Malaysia, Kuala Lumpur and University of Cyberjaya, Kuala Lumpur). Furthermore, he conducted accelerated professional marketing courses in Bosnia and Herzegovina (University of Vitez), Thailand (National Institute of Development Administration) and Sri Lanka (National Institute of Business Administration). His experience ranges from Pharmaceutical Sales, Vocational Training and Higher Education. He is an International Master Trainer and a Certified LEGO Serious Play Methodology Facilitator who has worked with a number of international blue chip clients. Dr. Sharif uses 'experiential' and 'blended' approaches to training where he involves himself and the participants in the knowledge creation and the learning process.
IBA CEE Cancellation Policy for Open Enrollment Programs:
In the event of participant's cancellation, the following schedule will apply:
5 days before start of workshop - No cancellation
Within 4 to 2 days prior to workshop Half program fee forfeiture
Within 1 day and No Shows - Full program fee forfeiture
Cancellation notification must be made in writing to CEE.
Postponement
Due to any unavoidable circumstances, the workshop may be postponed by the institute. In case of postponement, the institute will refund full fee of the program or the participant may opt to defer his/her registration to the next program.
Substitute
Substitutes will be taken at least 2 days prior to the workshop. Should we be unable to accept your application for any reason, your payment (cheque/draft) will be returned to you.
Deferrals
All registrations deferrals must be requested in writing at least 2 days prior to the workshop. Send a note to the Program Registration Team indicating that you wish to have your registration deferred to another session of the same program within one year. The deposited fee will be carried forward. Please note that only one transfer is permitted. After one year, the deposited fee will be fully forfeited.