State-owned enterprises (SOEs) rank among the world's largest companies in the world and have a potentially critical role to play in economic growth and development. SOEs are in a unique position to drive economic growth given their size, mission, and strategic objectives.
SOEs are in many developing economies (including Pakistan) the sole providers of key public services, such as Water, Energy and Oil & Gas. Ensuring that they are competitive and efficient is therefore crucial for economic development, public service delivery and the downstream competitiveness of the broader enterprise sector.
When governed transparently and efficiently, SOEs can correct market failures, improve public service delivery, and even play a role in creating fairer, more competitive markets. However, SOEs need to establish strong governance practices to maximise their contributions to development.
SOEs in Pakistan have played a pivotal role since independence. With the new Act in place in 2023 – hear from our Expert Panel on the way forward for the SOEs in Pakistan.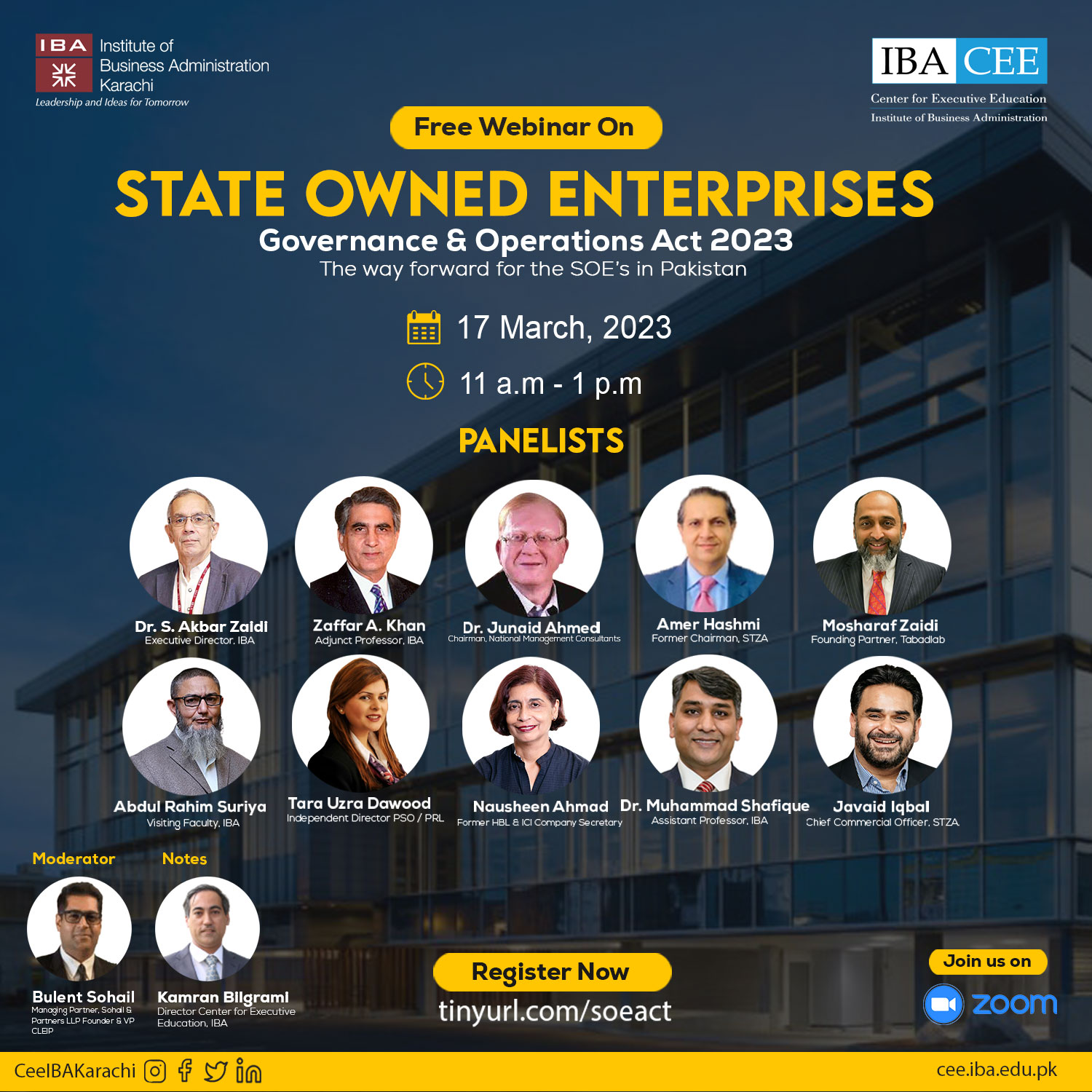 Panelists:
1. Dr. S Akbar Zaidi, Executive Director, IBA
2. Amer Hashmi, Former Chairman, STZA
3. Dr. Junaid Ahmed, Chairman, National Management Consultant
4. Dr. Muhmmad Shafique, Assistant Professor, SBS, IBA
5. Zaffar A. Khan, Adjunct Professor, IBA
6. Mosharraf Zaidi, Founding Partner, Tabadlab
7. Nausheen Ahmad, Barrister at Law and Lead Counsel Legal and Governance Advisory
8. Abdul Rahim Suriya, Visiting Faculty, IBA
9. Javaid Iqbal, Chief Commercial Officer, STZA
10. Tara Uzra Dawood, Independent Director PSO / PRL
11. Mr. Muzzafar Ahmed Mirza, Head of the Legal Affairs Securities and Exchange Commission of Pakistan

Moderator:
Syed Bulent Sohail, Managing Partner, Sohail & Partners LLP; Founder & VP, CLEIP
Notes:
Kamran Bilgrami
Director Center for Executive Education, IBA
Free Webinar Register to Receive Zoom meeting ID via Email
IBA CEE Cancellation Policy for Open Enrollment Programs:
In the event of participant's cancellation, the following schedule will apply:
5 days before start of workshop - No cancellation
Within 4 to 2 days prior to workshop Half program fee forfeiture
Within 1 day and No Shows - Full program fee forfeiture
Cancellation notification must be made in writing to CEE.
Postponement
Due to any unavoidable circumstances, the workshop may be postponed by the institute. In case of postponement, the institute will refund full fee of the program or the participant may opt to defer his/her registration to the next program.
Substitute
Substitutes will be taken at least 2 days prior to the workshop. Should we be unable to accept your application for any reason, your payment (cheque/draft) will be returned to you.
Deferrals
All registrations deferrals must be requested in writing at least 2 days prior to the workshop. Send a note to the Program Registration Team indicating that you wish to have your registration deferred to another session of the same program within one year. The deposited fee will be carried forward. Please note that only one transfer is permitted. After one year, the deposited fee will be fully forfeited.