The KPI Essentials training course is designed to support you in developing key competencies in performance management, with the aim of improving processes such as KPI selection, KPI documentation, KPI data gathering and reporting.
During the training, you will become familiar with the most important tools and techniques in working with KPIs, and you will learn how to build a performance management culture.
This Training is offered in Collaboration with The KPI Institute Australia https://kpiinstitute.org/ Participants will receive Registration, global Course Contents and Certificate of Attendance along with 30days complimentary access to over 8000 KPI's via https://smartkpis.kpiinstitute.org/
Apply best practice techniques to KPI selection;
Document KPIs;
Select relevant KPIs;
Structure the data gathering process;
Practice making decisions based on data.
Understanding KPIs
Apply best practice techniques to KPI selection;
KPI Related Terminology;
SMART Objectives Decomposed;
KPI Lifecycle;
KPI Typology;
Activity: Identify the KPIs
Working with Targets
KPI documentation;
Activity: Practice KPI documentation;
Target setting process;
Challenges in working with targets;
Negative behaviors caused by target setting
KPI Selection
Activity: Allocate KPIs for each objective;
KPI Selection for Organizational Scorecard;
KPI Selection Sources;
KPI selection Techniques;
Activity: Apply KPI selection techniques
Review and Learning Assessment Quiz
Course review;
Learning outcomes;
Learning assessment quiz
09:00 am-10:30 am Introduction and Understanding KPIs
10:30 am-11:00 am Tea Break
11:00 am-13:00 pm KPI Selection
13:00 pm-14:00 pm Prayer & Lunch Break
14:00 pm-15:30 pm Working with Targets
15:30 pm-16:00 pm Tea Break
16:00 pm-17:00 pm Recap & Learning Assessments
Executives, Department Heads or Operational managers, regardless of their field of expertise, will gain the ability and knowledge to manage performance in an integrated manner. The tools and knowledge offered as part of this training course enable managers to apply the concepts learned within their organizations, immediately after the course.
How will you (participant) benefit?
Access international best practices for developing a KPI Performance Management Architecture;
Effectively measure performance by practicing a variety of techniques to ensure the best KPI selection process;
Enhance your performance measurement framework by successfully integrating data in the decision-making process;
Access rigorous tools that help you implement a KPI Management Framework, by receiving 10+ templates used in working with KPIs;
Access an innovative learning experience comprised of a 3-stage educational process.
Trainer Profile: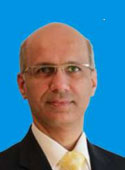 Syed Farhan Mahmood is a Management Consultant, KPI Certified well-rounded Strategic HR Professional, with over 25 years of business experience & deriving excellent organizational results.
Strategic Human Resource expert Syed Farhan Mahmood has strong HR operational
& Consulting experience across various diversified Industries & Conglomerates in Pakistan & UAE i.e., Investments & Trading, Healthcare, Education, Telecommunications, Pharmaceuticals, Chemicals, Oil & Gas, Office Automation, Hospitality, Food Processing, Packaging & Manufacturing, Printing & Publishing, Poultry, Construction & Construction Material production units, Property & Shopping Mall Management, Retail business, with several renowned Groups & Organizations within the
region.
As a Senior professional & Advisor in multiple organizations in UAE & Pakistan he has been instrumental in designing and implementing simple to complex organizational structures, Family Business and Corporate governance initiatives, Leading in Designing and implementing various
Grade & Compensation Structure, Employee Engagement initiatives, Digital Learning implementations, conducted detail HR diagnostic studies on Workforce Planning, Productivity Analysis, workforce optimization and Resource Allocation, development of Human Resources, Performance Management, Learning & Development policies and procedure Manuals and implemented various Performance Management Systems.
As a Trainer he has facilitated sessions on Key Performance Indicators, Competency Frame works, Job descriptions, Job evaluation & Analysis, Goal Setting Exercises, Talent Management, Recruitment Techniques & Interviewing Styles, Performance Management Systems, Organizational Values, Mission and Vision and Strategic initiatives.
IBA CEE Cancellation Policy for Open Enrollment Programs:
In the event of participant's cancellation, the following schedule will apply:
5 days before start of workshop - No cancellation
Within 4 to 2 days prior to workshop Half program fee forfeiture
Within 1 day and No Shows - Full program fee forfeiture
Cancellation notification must be made in writing to CEE.
Postponement
Due to any unavoidable circumstances, the workshop may be postponed by the institute. In case of postponement, the institute will refund full fee of the program or the participant may opt to defer his/her registration to the next program.
Substitute
Substitutes will be taken at least 2 days prior to the workshop. Should we be unable to accept your application for any reason, your payment (cheque/draft) will be returned to you.
Deferrals
All registrations deferrals must be requested in writing at least 2 days prior to the workshop. Send a note to the Program Registration Team indicating that you wish to have your registration deferred to another session of the same program within one year. The deposited fee will be carried forward. Please note that only one transfer is permitted. After one year, the deposited fee will be fully forfeited.